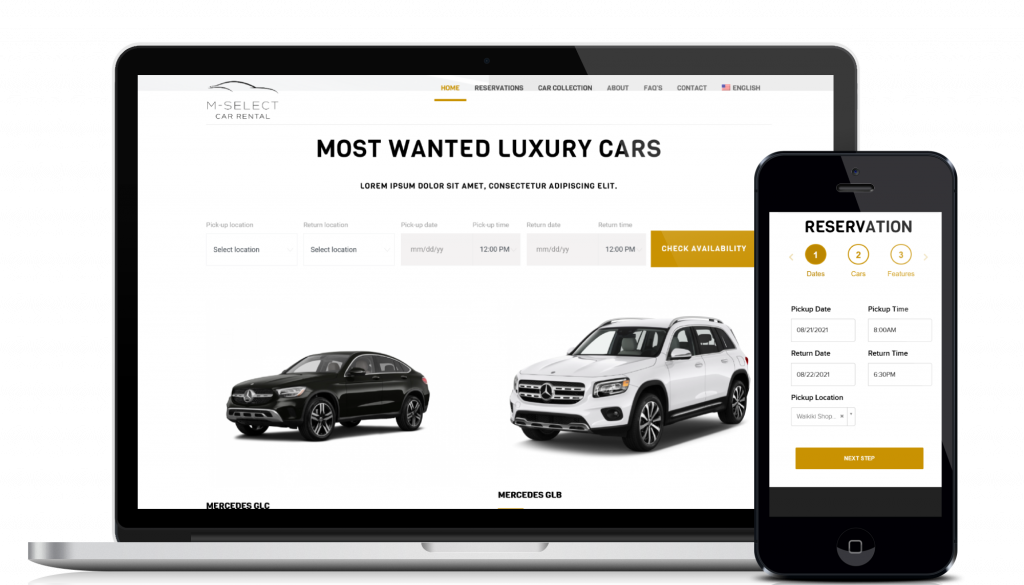 M-Select Car Rental
About The Client
Nestled in the laid-back tropical metropolis of Honolulu, Hawaii. M-Select Car Rental offers an elite fleet of the latest luxury vehicles for hire to a discerning clientele. With rentals conveniently available in three locations, including hotels and a shopping plaza. This newly minted luxury car rental start-up prides itself on providing value while ensuring clients enjoy an unforgettable and extraordinary driving experience.
The Challenge
M-Select Car Rental came to Caribonix wanting to build a modern luxury car rental website that would reflect the prestigious nature of their brand while creating the ultimate user experience. The site would need to establish the new company in the online space, build brand awareness, generate online reservations, capture market share with new client acquisitions, and serve their consumer base for years to come.
The Approach
In a collaborative effort with the M-Select Car Rental team, we began this luxury car rental web development project by creating a solid web strategy that would set the stage for success. Armed with clearly defined goals and objectives, our creative team of developers and design wizards then went to work on implementing the client's vision. This meant building a custom site from scratch while optimizing every touchpoint for conversions and streamlining the entire vehicle reservation and payment process.
A User Experience as Sleek as Their Luxury Cars
Understanding that a business's website is its best salesperson, our focus was on creating a seamless user experience paired with a clean yet innovative design. With WordPress's content management system (CMS) and other top-notch technologies at its core, we built a responsive luxury car rental website that's mobile-friendly, multilingual, and easy to navigate. It includes integration with HQ Rental Software, Google Maps, and an online reservation form and payment system that makes booking a breeze.
Tailored to Drive Results
Besides leveraging a sophisticated, professional, and upscale lifestyle aesthetic that attracts the right target market, the site is geared towards conversions. From multiple call-to-action buttons and a contact form to a newsletter sign-up form and social media links, every element works to generate engagement, get more inquires, and boost bookings for a healthy bottom line.
I'm very satisfied with the way our new car rental website looks and works. Caribonix is professional, they resolved any questions we had regarding building our luxury car rental website. Communication was very clear and easy to understand throughout the entire development process. – Ritsuko – CEO @ M-Select Car Rental
Luxury Car Rental Website Design & Development Engineered for Continued Growth
Besides providing M-Select Car Rental with a luxury car rental website design that's complete with every bell and whistle needed to make their mark in the car rental industry and outdo their competitors. We help ensure future growth with reliable web hosting, web maintenance and care, and ongoing technical support. In addition, the integrated HQ Rental Software gives the business access to a user-friendly system that makes managing vehicles availability, add-ons, contractual arrangements, fleet maintenance, and rates super easy.
Although they're still in the early start-up phase, M-Select Car Rental is now equipped to provide clients with an exceptional rental experience from the moment they land on the website. Our testing protocols and quality control measures also put them in the best possible position to grow a thriving car rental business online.
Are you ready to put us in the driver's seat of your luxury car rental website design & development?
Start your car rental website design project now!